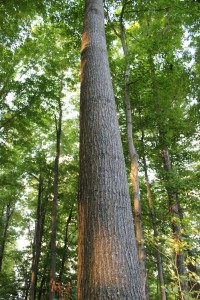 There is no such thing as an average stand of timber. Not only the economic values differ drastically from woods to woods, but each landowner evaluates the aesthetic and recreational values differently. At Tri-State our goal is to generate the most VALUE to you from your woodlands.
The first step in selling timber is to meet with one of our professional foresters. After a walkthrough of your woodlands the forester will ask you questions about your goals, your objectives, your concerns, and your values. From this discussion you and the forester can come to an understanding of what you want to do and what is possible to do.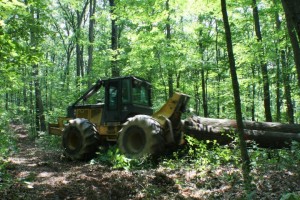 All landowners selling timber want to make sure they get "top dollar" for their timber. We are able to generate the most amount of money to landowners by generating the most money possible from the logs. Sometimes this means processing logs into lumber, veneer, or a specialty product when there is a market deficiency and other times it means marketing logs in exceptionally competitive markets.
Our loggers are some of the best loggers in the region. We are devoted to taking care of the landowners' property and treating it as if it were our own. We are committed to following Best Management Practices and as such we were named Logger of the Year by the Indiana Tree Farm Committee for 2010.
We look forward to talking with you about your interests in selling timber. If you have any questions, please feel free to contact us toll free at (800) 992-5599.